ENVIRONMENT FRIENDLY PACKAGING SOLUTIONS

Everyone is searching for "Reduce, Reuse, and Recycle". And it is absolute necessity to use environment friendly packaging materials to save earth. But in our businesses we should reflect the same values. Not only environment, but also increase brand loyalty among Eco-conscious way of doing business. With everything going greener, Eco – friendly packaging and recycling is becoming a necessary. It's a viable option for businesses aiming for circular economy and a sustainable future.
Eco- friendly packaging solution as follows:
Corrugate sheet shredding machine
Air pillows packaging
Air tube packaging
Corrugate Sheet Shredding Machine: –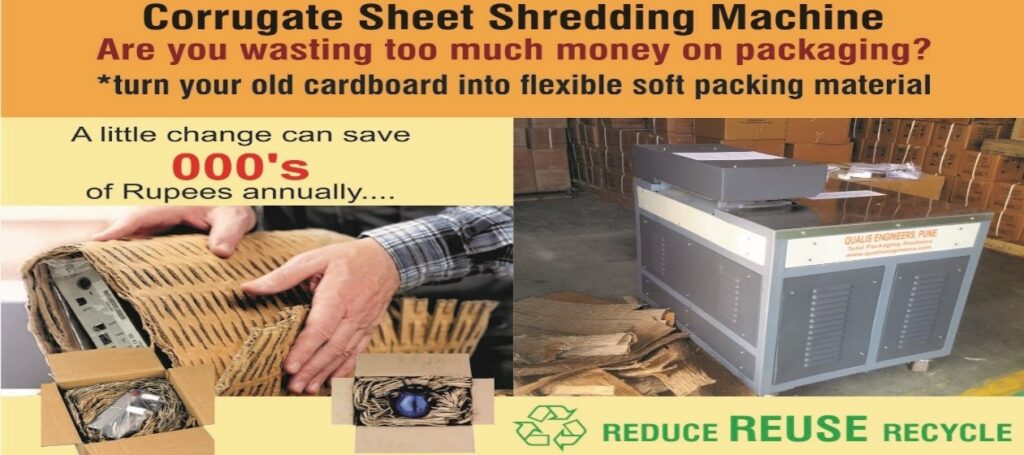 To protect fragile products like glass bottles/articles, electric parts, delicate high value parts in transit this corrugated shredded sheets can be used as shown in image above. You can recycle this kind of sheets form your waste throw away corrugated boxes. So the consumable cost to pack is absolutely zero.
Air Pillows Packaging: –
It provides excellent conveyance for any product and avoid the breakage of edges of product. Gives Stability to product form any inconvenience handling.
Air Tube Packaging: –
Air tube packaging is also known as shockproof packaging. The air column bag is gas expansion. It is packaging that can slow down the impact and shock of the contents inside and protect them from damage. It has become a commonly used Eco-friendly transparent flexible packaging materials.
Application:
Consumables – Wine/Liquor, Pharmaceuticals, Toner Cartridges
Electronics – TV, PC, Monitors, Laptops, Cameras, Cell Phones, PDAs, MP3's